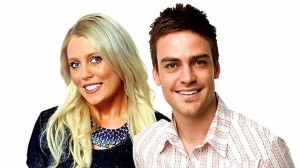 In an interesting twist of events yesterday that feels like a quiet covering of bases, Southern Cross Austereo's CEO Rhys Holleran stated that the Hot30 Countdown on 2dayFM would be scrapped, with the two hosts involved in the now infamous Royal Prank on the Duchess of Cambridge being moved onto other shows.  Needless to say, I doubt that the news that Michael Christian and Mel Grieg are going to be back on the air-waves of Sydney is going to be of any solace to the family of Jacintha Saldanha, who was the nurse that committed suicide soon after the prank call to the Duchess's ward at King Edward VII Hospital in London was made.
Soon after Saldanha committed suicide, the following comment was made by Michael Christian in regards to the incident:
'We just made the phone call and that was it. We don't get to make those decisions, we don't get to make those calls, that's done by other people. Our role is just to record and get the audio and wait to be told whether it's OK or not OK."
This statement was further compounded upon, when Mel Grieg confirmed the procedures.
"It's not up to us to make that decision. We just record it and then it goes to the other departments to work out. I don't know what they then do with it. We just do what we do, which is make those calls."
Now whether you believe the story put forward by Christian and Grieg or not, it is now evident that Southern Cross Austereo are trying to reduce the license conditions placed upon them by effectively renaming the Hot 30 Countdown and moving the presenters onto new positions (or waiting till the scandal surrounding them fully subsides). Given that the Hot 30 Countdown was already the subject of additional licence conditions for 2DayFM from an on-air incident with Craig Lowe and a porn star in 2005, Southern Cross Austereo would've undoubtedly been anxious to avoid having two major shows with multiple black marks put against their names by ACMA.