Over the past 24 hours, there's been quite a stir within the Australian media about a series of comments that Prime Minister Tony Abbott recently made on the Sydney radio program of 2GB's controversial morning shock jock, Ray Hadley.  Utilising parts of the interview to pander to some of his more vocal supporters (and ABC critics) within the Coalition partyroom and the Liberal heartland of Sydney, Mr Abbott decided to make a few unwarranted comments about the levels of patriotism, political bias, value and accuracy found within the ABC, given some of the political stories that have been run by the public broadcaster over the past few months.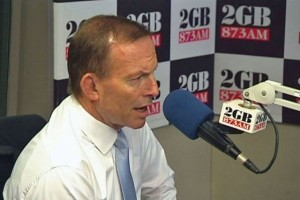 Now while such comments would obviously partially be the result of Mr Abbott and his Coalition colleagues being generally unhappy with the ABC's portrayal of intelligence related stories and the airing of asylum seeker claims of abuse over recent weeks (which Scott Morrison has ineptly managed due to his steadfast refusal to provide transparent immigration information and video content to the Australian public which would refute such claims), it's not as if the ABC hasn't been giving away  "Free Kicks" to their critics of late.  As evidenced by the ABC's New Year's Eve coverage earlier this month, the drunken actions of a few ABC journalists, comedians and presenters can be all the mud that's needed in order to make it appear that a public broadcaster is completely and utterly out of control when attached to other grievances.
But are claims that the ABC is biased, unpatriotic, under-regulated and un-representative of Australian society valid, or are they simply just an obvious level of pandering to a small but vocal ideological element within the Liberal partyroom and ideological base, which would like to see the ABC privatised?  Furthermore, do such claims really stack up when you take into consideration that of the 19 former ABC empolyees that had gone on to become politicians as of a Senate Estimates inquiry into the issue on the 23rd of May 2007, that nine had joined the Coalition, while the remainder had joined Labor?
Well, the devil is in the details in regards to those particular questions.
Now not counting the digital radio networks, the ABC has 60 Local Radio stations and 4 national radio networks within its possession at this time, not to mention four nationally broadcast digital television networks.  From music through to sport, arts culture, agriculture, law, mining, religion, history and science amongst others, the ABC has a wealth of units and a broad church of staff, which help them to fulfill their government mandated charter. Needless to say, all of these facilities provide a massive amount of content on a daily basis to all elements of Australian society, most of which statistics would show, isn't of a political nature.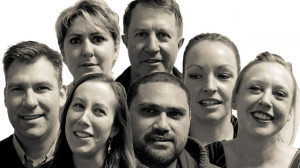 In order to prove that point, I'm going to put the spotlight on the staff and facilities of the first radio station that I interned with a number of years ago, ABC New England Northwest, which is nestled up in the foothills of the Great Dividing Range in Northern New South Wales.  A funky and innovative group of people, these journalists highlight the diversity, professionalism and patriotism which is found across the ABC on a daily basis.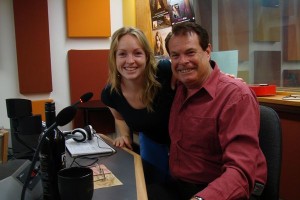 Now at 6am every morning at the end of "Overnights with Trevor Chappell", the positively delightful (and Mum-to-be) Anna Moulder starts to grace the radio waves of the region from the uppermost reaches of the Hunter Valley all the way up to the Queensland border and beyond with local news, information about sporting and cultural events, weather, what some of the weird and whacky jobs that can be found within the New England are, music and what can be expected in the Rural Report and Morning show both in between and after her on-air shifts each morning.  While she may be a Queenslander by birth (boo-hiss!!), she's firmly got her heart in the New England region and rural New South Wales, especially whenever State of Origin is on.
Next up is the cheeky and adorable presenter of the Rural Report, Lisa Herbert, who also doubles as a contributor to the NSW CountryHour and Bush Telegraph as well.  Having worked extensively with the Queensland Department of Primary Industries throughout the 1990's out around Charleville, the tools of her trade before entering the media in 1996 included everything from chainsaws through to rifles,  motorbikes, swags, stomach tubes, satellite phones and a wicked sense of humour.  While she doesn't like to brag, this tough and awesome lady has been there and done that in rural Australia, and it shows in the wide range of rural and primary industries content that she produces each and every day with passion.
Needless to say, such levels of investigative and routine reporting are crucial for rural comodities orientated industries, primarily because the lifestyles of various farmers, miners and the service providers that support them don't allow for these individuals to spend much time infront of a computer or reading a newspaper.  As 702 Sydney's Drive and ABC NSW's "Thank God Its Friday" presenter Richard Glover stated on air yesterday, industry and regional specific programing such as that provided by ABC Rural and all other parts of the ABC is there because the community demands it, rather than because the ideological voice of any political party desires it.
Following soon after that, you've got "ABC New England North-West Mornings" which is hosted by my fellow red-head and interviewing extraordinaire, Kelly Fuller. While she may be a city girl by birth, Kel is downright fearless when it comes to asking anybody and everybody tough questions, regardless of their profession, hobby, background, politics or anything for that matter, whenever they come into her region.  Having been everywhere from Bill Caralis owned stations such as 2NZ and 2TM through to 2GB and the ABC Newsroom in Sydney, she's been there and done that when it comes to anything related to commercial and public radio within Australia.  While she's a very refined lady, she's also an outright terror whenever she either steps onto a soccer field or starts talking about her beloved country music both on air and off.
Furthermore, station veterans such as David Evans, Mark Lowe and Jennifer Ingall are as professional as they come as well.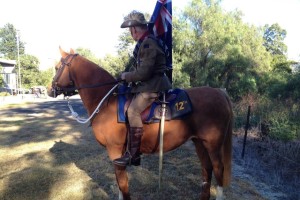 As well as being a veteran of Prime News in Tamworth alongside the likes of Channel 7's Kylie Gillies and Neil Warren, David Evans has done everything  from covering the plight of farmers in drought through to ANZAC Day parades, reconciliation events, pedophilia cases and even backyard gardening across the New England region throughout a thirty plus year career within rural media.  He's also been one of the leading proponents behind the preservation of Lighthorse legend within Australian military and cultural history, having trained multiple horses for both military funeral and ANZAC Day duties over the past few decades.
~~ To hear David Evans talk about the legend and importance of the Light Horse in Australian military and civilian history with ABC Rural's Lisa Herbert, click here ~~
Meanwhile, Mark "Lowey" Lowe and Jennifer Ingall are two of the people that I credit the most with getting me interested in journalism and the  the media in general in the first place.  Having been the Sports Editor of ABC New England since 1992, Lowey and his Saturday "On The Hill" sports program have become regional treasures within the New England, with Lowey joining the board of the prominent Northern Inland Academy of Sport (NIAS) last year.  Jennifer Ingall, who is the Regional Content Manager, has also worked broadly across both metropolitan and regional media throughout her career. As shown by the outstanding interviews that she conducted with retired Olympians prior to the Beijing Olympics in 2008, Jennifer is as professional and patriotic as they come about the media in relation to the multicultural Australian identity as well.
Consequentially, it feels rather offensive to me that some people would imply that ABC employees such as the people that I've profiled in this article aren't acting in Australia's interests or in a deeply professional manner in accordance with their community's wishes.
Now undoubtedly, some people are going to say "So what? It's just one station that you've referenced in this article."  And to their credit, they'd be right.  However when you take the characteristics of ABC New England Northwest and compare it to those of other ABC stations, units and personnell across the entire country, it very quickly becomes evident that such high levels of professionalism, diversity, impartiality and love of country and community can be found within the overwhelming majority of the ABC.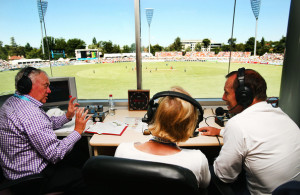 Coincidentally, this is something that even Mr Abbott has alluded to over recent months, whenever he's made an appearance on ABC Radio.  Throughout the past few weeks alone Mr Abbott has appeared live on Grandstand during their ball-by-ball coverage of the Australian summer of cricket, during which time he was asked a lot of personal, sporting and political questions from the likes of Jim Maxwell, Alan Border and Cate McGregor.  Needless to say, its doubtful that he would've engaged in such a jovial and thoughtful manner if he truly hated the ABC as much as some of his colleagues on both sides of politics do.
Now in all honesty, this entire controversy has been one that I've been expecting ever since the ABC's abysmal New Years Eve coverage at the start of this month.  As I stated at the time, being drunk and acting inappropriately on air is both unprofessional and dangerous, particularly when there's a multitude of people on all sides of politics who love to lay the boot into public broadcasters like the ABC, purely because it suits their own political agendas. While I honestly doubt that Tony Abbott falls into that catagory, the fact that some of his more vocal backbenchers do would ultimately have caused problems for him within the partyroom, if he didn't make at least some comments denegrating the ABC and its recent coverage, however unwarranted.
Now for all of its flaws, the ABC is still one of the best broadcasters worlwide in terms of service, content, professionalism and accuracy. When utilised properly by the government of the day, it can be an effective resource multiplier in regards to the promotion of "soft diplomacy" across the Asia-Pacific region, not to mention a superb resource for health, education and public awareness purposes.  While this is a fact that Prime Minister Abbott would be well advised to take heed of going forward, the true value of the ABC as a public broadcaster has been ignored by governments of all political affiliations for decades.  Needless to say realising the true value of such a broadcaster would mean analysing everything about the ABC in much greater detail than the study that Malcolm Turnbull announced earlier today will allow, while taking into consideration what the people really want from the ABC going forward and not just the opinions of a few ideologues from across the political spectrum.