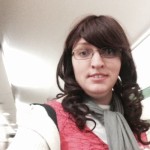 A couple of weeks ago I had the pleasure of presenting a short film on Transgender Youth to a group of politicians, staffers and other dignitaries at Parliament House in Canberra.  This group, otherwise known as the "Parliamentary Friends of LGBTI Australians", focuses heavily on improving the lives of all Australians who are a part of the Lesbian, Gay, Bisexual, Transgender and Intersex communities, as well as their partners and allies. Furthermore, it's also bi-partisan — having members from all of the major political parties and the cross-benches — which is a rarity within Australian politics today.
This was the second time that I'd appeared at a "Parliamentary Friends of LGBTI Australians" event having produced a radio documentary on the group for "All the Best" on FBi Radio in November 2012, prior to moving to Sydney and starting my transition in earnest in 2013.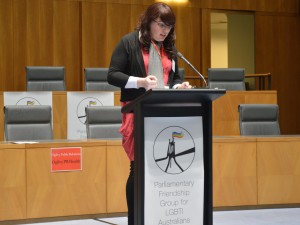 The film in question, "In My Shoes",  is a short production that was recently commissioned by The Gender Centre of NSW in Sydney and produced with the assistance of Monique Schafter (ABC 7-30 and Hungry Beast) as well as cinematographer Mat Govoni.  Since the idea for this production was first raised at The Gender Centre, I've been honoured to have a role in this film's production in both logistical and advisory capacities, amongst others.  Needless to say, the stories of the five young adults in this film are heart-touching, educative and profound in so many ways and will undoubtedly help to save the lives of many other Transgender Youth in the years ahead.
Delivering this speech in Parliament House in Canberra was one of the most emotionally overwhelming experiences of my life, and I'm so glad that I had the support of people such as Warren Entsch (Lib), Sarah Hanson-Young (Greens) and Graham Perrett (ALP) in calming my nerves both before and after the speech was made.
In sharing both "In My Shoes" and this speech, I feel as if my life has come full circle over the period since late 2012 and I hope that they both help other young people find their true selves going forward.
---
The Speech:
I'd really like to thank everyone for coming tonight, for what effectively is the first official showing of "In My Shoes" as a documentary since it was released late last week.

It is a true honour to be speaking to you all tonight not only because of this lovely short film that highlights the stories of a group of outstanding young Trans-people within Australian society, but because of how tonight's event represents how my own life has gone full circle since the last Parliamentary Friends of LGBTI Australians function was held in November 2012.

Now as some of you may remember, I didn't exactly look like I do right now back then, while for the most part I didn't act in a way that was natural at all for me either.

Trapped in a seemingly never ending tunnel of fear, anxiety, frustration, pain and despair, I can say with all honesty that the events of the last function and the production of the radio documentary that I produced on it made me realise that things needed to change and change really fast, or something really bad was going to happen that I couldn't walk away from.

So after talking in depth with people like Cate McGregor and Penny Sharpe after two really scary nights in late 2012 and early 2013, I packed my bags, got the support of the outstanding organisation known as The Gender Centre in Sydney and never looked back.

Now I can't speak highly enough of The Gender Centre, and especially the two people that I've had the most to do with there, which is my case-manager Liz Ceissman and the outgoing Transgender Anti-Violence Project Officer, Tahlia Trijbetz.

The Gender Centre and the people within it regularly save lives and with the outreach, housing and counselling services that they provide amongst others, they've helped numerous people such as myself find the stability that they need, so that they can become productive and engaging members of society again.

So when Liz and Tahlia asked me to help put together a short film about three months ago for the Gender Centre that could be shown in schools to young trans-people in order to encourage them to be themselves and avoid what I went through, while also educating the rest of society about what it means to be Trans, it was a request that I couldn't refuse.

Now while I can do anything when it comes to radio, I knew that I was way out of my depth when it came to film and was going to need help. Furthermore, I also knew that this was something that had to be done right, otherwise it wouldn't have the life saving influence that we wanted it to have.

And that's where Monique Schafter from the ABC's 7-30 program and her cinematographer pal Mat Govoni came in.

Mon and Mat together with Tahlia, who was "In My Shoes" executive producer, really gave this film their all, while finding five of the most outstanding young people that I've ever had the chance to meet who could share the most intimate and personal stories of their lives as one.

I don't often use words such as incredible and heart-touching, but they so aptly describe "In My Shoes" and the people within it. And with the support of Tahlia's replacement Bella Partridge as the Transgender Anti-Violence Project Officer at the Gender Centre, I'm sure that we'll see more young people coming forward like the ones you are going to see tonight.

These days I feel happy, I feel loved and for the first time in my life I feel myself. I've also got some of the best friends that a girl could wish for, such as Christine, who's here tonight and her fiancé Virginia, while others, such as Belinda Lopez, Zoe Daniel and Peter Lloyd have also given me support when I've needed it the most as well. Without our friends we are nothing, and I can safely say that my Transition has become a much more joyous and less daunting affair since I found both myself and such awesome people to embrace life with.

Needless to say, "In My Shoes" is the film that I've waited my entire life to watch, and I'm so glad that I'm here, in my high heels, introducing it to you tonight.

Thank You.