As many of you would know, during the last election I wrote an article about The Honourable Tony Abbott MP and some audio that I found of him from his tenure at the University of Sydney during the late 1970's.
Within that article, I asked Mr Abbott and all of his colleagues in parliament to describe how they've changed as individuals, for better and worse, since their youth.  From Mr Abbott and his UNE audio, Prime Minister Gillard climbing her Barricades through to Senator Brown on the banks of the Franklin River, it was a question worth asking, as it highlighted the challenges, experiences and emotions that have made the politicians of our time into the people that they are.  While it was a good and honest question, on reflection it was probably a little cheekier than I'd intended at the time towards all of the politicians involved.
Here's a defining grab from that particular article.
By Kate Doak.
5th August 2010

Tony Abbott has always been a magnet for controversy, so you can imagine my surprise when an interview from his studies in 1979 at the University of Sydney was found within TUNE! FM's archives early last week. Given that I'm a sucker for history (even though I hate politics), I fired up the old Reel-to-Reel Tape machine and settled down for some aural pleasure. As an amateur Historian, what I heard didn't disappoint.

With a level of charm that only old Tape and Vinyl can deliver, I was whisked away to a time where Tony Abbott was way less recognizable than what he is now. Starting the interview off with the trials and tribulations of student politics and a healthy smattering of inter-university rivalry, Tony proceeds to take a firm swipe against both  Trade and Student Unions alike while recognizing their differences. Changing tact, he then switches topics to education, injects a streak of Christianity and sexism into the discussion and gets slightly put off when ambushed on the topic of Feminists, Gays, Migrants and Aboriginals forming their own supportive communities.
While I never received a definitive response to my question in regards to Same-Sex and Gender Diverse perspectives (from any of the politicians within Federal Parliament), I never lost hope that I'd finally receive an answer to something that had been provoking my driving sense of professional curiosity since before the last election.  To borrow a quote from Peter Allen though, "time is a traveller" and nothing can ever beat it as a teacher.
Now since that article was published online in 2010, I've met Prime Minister Gillard and her Ministers at the NBN Launch in Armidale, interviewed Chief Opposition Whips, received a first-hand perspective on modern history, had coffee with various Ministers, MP's and Senators, been surprised by one of the most beautiful, inspiring and touching functions that a person could ever hope to be invited to, while bearing witness to one of the most accurate and extraordinary acts of honesty, kindness and acceptance that I've ever had the privilege of being privy to.  While it might've taken a while, I've most certainly learned the answer to my question, though in the most unexpected and joyful of ways.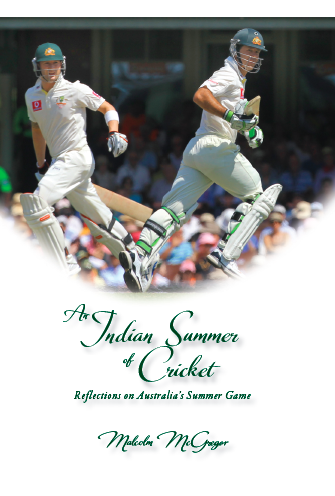 Needless to say, we all change as we become the people that we both want and were meant to be.  Take Mr Abbott's review of Lt Colonel Catherine (nee Malcolm) "Cate" MacGregor's book "An Indian Summer of Cricket", within The Spectator periodical for example.
Now while the focus of Cate McGregor's book is predominantly on Cricket, it is also an indepth exploration of the meaning of life beyond the sporting fields of Australia and the world.  From psychology through to international diplomacy, globalisation, culture, laissez-fare economics, Australian politics, history and military tactics, this delightful book goes into what defines the inner mindset of people, which in return releases not only their full academic and physical potential, but their creative passion and deepest, most authentic personality as well. This is an element that Mr Abbott graciously explored within the following paragraphs of his review.
Eventually, the struggle to preserve what's worthy while everything else changes envelopes McGregor himself. While India's tour disintegrated, McGregor was coming apart too. As he writes in the last chapter, back in 1985 he'd been diagnosed as transgendered but had resolved, in his own words, to 'man up' and get on with life. Last summer, the strain of trying to be what, deep down, he was not became too much. Between the end of the series and finishing the book, faced with total personal collapse or a leap into the unknown, Malcolm has become Cate. Those who knew him will be shocked, McGregor writes, but not offended, she hopes.

Throughout the book, McGregor has wrestled with the impact of change on identity. Is the 20-over game the real thing, for instance? After some struggle, this instinctive traditionalist tentatively and at times reluctantly concludes that, yes, it is because enough of Test cricket's concentration, struggle and artistry have survived the translation. How much harder must it have been to deal with her own inner angst and to have concluded that change wasn't just unavoidable but desirable? All who have ever been on the precipice of changing their lives could benefit from another book from McGregor focusing on this, the biggest change imaginable.

How do institutions based on obedience to authority, respect for tradition and loyalty to comrades even survive, let alone flourish, in a world that's much more attuned to individual autonomy and authenticity? How do we encourage people to be selfless when we won't even let them be hard on themselves? These doubts, I suspect, stem from lack of sufficient faith in the power of our ideals and in our capacity to adapt. McGregor's life might actually be answering questions that the book merely poses.

With barely a blink, the army has accommodated her personal changes. After all, McGregor's professionalism and patriotism has not changed one bit, though much else have. Field Marshall Slim once remarked that moral courage is a higher and rarer virtue than physical bravery. Army chief General David Morrison's launch of this book is a fitting salute to courage. How's that for an institution that is so often supposed to be out of touch?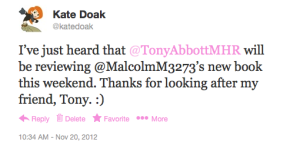 Now to be brutally honest, I will never forget the day that Mark Textor (who is another dear friend) introduced Cate McGregor into my life and irreversibly changed it for the better. While I've got my fair share of other close friends, Cate is one of only a handful of people Australia-wide who can directly relate to how I feel as a Gender Diverse person who is within the public eye.  Throw in her genuine yet firmly creative nature, and it's not hard to feel a sense of sisterhood with her, due to shared experiences, emotions and interests, amongst other factors.  Needless to say, she is a person that I will always deeply cherish, admire and treasure as a friend.
So when I say that Mr Abbott's review of Cate's book had me in tears when I first read it for close to an hour, I want you to fully recognise the full meaning and symbolism of that particular article.
Mr Abbott didn't need to get in and be as honest, accurate, passionate, insightful, dignified and kind as he was in his aforementioned review, though he chose to be all of those things.  Being true to one's self, family and friends takes real courage and compassion, which are qualities that are sadly found all too rarely these days.
Throughout "An Indian Summer of Cricket" Cate McGregor shows an extraordinary level of moral courage, which is echoed throughout the passages of her book.  Having been recognised as one of Australia's sharpest political, military and social minds throughout the course of the past few decades, the passion of her work, life, family and sport has given her the conviction and insight to analyse life, the universe and everything within cricket, in a manner that few people will ever be able to replicate.
An avid historian and military strategist, Cate has essentially fought an internal re-enactment of the American Civil War against her own mind throughout her entire life. As Cate quoted throughout the closing chapters of her book, the psychology present behind General Grant's and President Lincoln's comittment of the Union to "hold the line, even if it takes the whole summer" is reminiscent of not only the mentality behind Australian Cricket teams of days gone by, but the situations experienced by Gender Diverse people as well.  While such events may feel like the "last of the summer wine" given the crisises that arise afterwards, humanity has never failed to break back into the diverse rainbow of life that accompanies every storm, whether they be real or imagined.
For male-to-female Trans-people for example, the entrenched attributes of masculinity are similar to the dogged-defensiveness that General Lee exhibited throughout the latter half of the Civil War. Try as we might to uphold them, the onslaught of femininity is relentless in the way that it forces everything to crumble beneath it, similar to General Grant's relentless attacks with greater supplies and firepower against the Confederate forces of General Lee.  Like the ruthlessness of the McGrath, Warne and Waugh era of Australian Cricket, both Cate, President Lincoln and General Grant knew that their respective "foes" would only cease to be a threat to them, once their entire structure was systematically dismantled. In other words, you give it your all, or not at all.
On reflection, this must be one of the attributes of Cate McGregor's that has attracted so many friendships and admirers to her over the years, even as she has transgressed the political, professional and public platforms of contemporary Australian life over the course of the past few decades.  While her identity has caused her great pain, which undoubtedly resulted in excessive alcohol and substance abuse throughout various stages of her life, it has also been one of the things that's undoubtedly helped her find a profound level of greatness within everything that she's touched, whether she's recognised the fact or not. This is evidenced by the fact that even Prime Ministers have found solace, humour and inspiration within her work.
Given the compliments of Malcolm Farr and the words of the aforementioned Mr Abbott alone, it is beyond evident that her profile of courage has had a profound and inspiring influence on the levels of joy, satisfaction and fulfillment present within other people's lives, eons before her much needed transition started creeping up over the horizon.  Whenever somebody has such an impact on others, their written and spoken words are nearly always worth exploring with extensive consideration.  On reflection, it isn't hard to see that these two giants of Australian political life have been personally touched by a person that they obviously feel honoured to call their friend.
Needless to say, Mr Abbott isn't the only person out there who's been starting to embrace (or has embraced) people from diverse social, ethnic and religious backgrounds. Over the past few months I've had extensive talks with people like The Honorable Mike Kelly (Minister for Defense Material) and The Honorable Warren Entsch (Chief Opposition Whip), who are the currently siting members for Eden-Monaro and Leichardt respectfully, within the current House of Representatives.  In a time of great hardship and emotional distress, it is people like this that can help individuals like myself remember that we can have (and deserve) long, productful and successful lives, whether they be in public service, private enterprise or family life.  To know that people are there who accept and support you for who you are, is worth more than anything that anyone can imagine.
Furthermore, Mr Abbott, Mr Entsch and Mr Kelly aren't the only people who deserves praise and have had me in tears due to how touching their commendation of Cate has been. From brilliant speeches by Malcolm Farr and the Chief of the Army Lt General David Morrison, through to interviews with Jim Maxwell, Geraldine Doogue and the ABC's 7-30 program, let alone the mountain of well-wishers, fans, her beautiful family and friends from all across Canberra's Press Gallery, Public Service, Parliament House, the Defence Forces and the cricketing fraternity that attended her book launch at the picturesque Manuka Oval, it is blatantly obvious that Cate has a wealth of support that few other people have.
But while some people would undoubtedly pass such actions off as politicians, the press and the public service being shrewd towards prominent member of a very small minority, I can't in all professional (and personal) honesty dismiss the facts about Mr Abbott's changing perspectives as they've been placed out infront of me.  From the personal (and easy to verify) stories of close friends, through to interviews on the record with some of the most open-minded members of Federal Parliament from both sides of the ideological divide, not to mention the published, broadcast and private material that I've seen, it is evident that the praise that Cate has received and the other changes that have occured are genuine.  As a result, I have to admit that Mr Abbott is a changed man when it comes to his perspectives towards both sexual and gender diverse minority groups, and so are most of his colleagues.
So while I'd still love to hear the answers that each politician could give to my original question (as I'm still a sucker for a good story),  I feel that I must apologise to the Parliament and Mr Abbott specifically for my question's original cheeky tone, now that I know that they have changed (or are changing) from the people that they were in their youth.  While that doesn't mean that I'll stop investigating and analysing every story I find as deeply, respectfully and accurately as I can, it does mean that I'll continue to honestly and respectfully give credit whenever credit is due, within each and every story that I pursue.
People can always change, and I'm more than happy to admit when I'm wrong and apologise about that.  Furthermore from a purely bibliophilic perspective, I can't express the joy that I feel from having such a marvelous book from Cate McGregor and subsequent review from Mr Abbott play such a leading role in teaching me something new.  Needless to say, the printed word still has a major role to play within the depths of the digital age.
So even if you hate cricket, get in and buy Cate McGregor's book. If it means that you learn something upon reflection about your own life from it, it'll help ensure that you never run out of the so-called "Summer Wine" of life.
An Indian Summer Of Cricket: Reflections On Australia's Summer Game
By Malcolm Mcgregor
Barrallier Books, 261pp, $39.50 (HB)