A single drop of water dangles on the tip of a precipice, just waiting to be free. Like it's predecessor a few seconds before, it makes a rippling sound as it impacts the floor below.
"Drip… Drip… Drip…" the drops start to go, as the precarious flow of liquid gradually picks up speed. However it's no tap that this salty torrent of water is now coming from.
Instead…. It's coming from me….
For the past twelve weeks, I've been doing something that I never would have thought myself doing again, upon coming out and transitioning a few years ago. Sports-bra, pony-tail, pink shorts and all, I'm presently sweating it out at the gym, oblivious to all of the movement, stretches, laughs and groans that are occurring around me.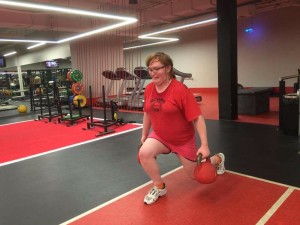 Furthermore, as the smile on my face and my cheeky banter with my personal trainer Loren plainly shows, I'm enjoying each and every second of it and ultimately itching for more.
As my lower legs start pounding from the pressure of doing thirty second sprints on an air resistance bike, my mind starts reflecting upon how like a lot of other women and trans-women especially, the mere thought of engaging in exercise publicly was more than enough to turn me off the idea of even entering a gym, let alone one of the largest ones within Sydney. Breathing deeply, though in rhythm with the bicycle beneath me, such thoughts quickly melt away as the endorphins from giving my muscles a wake-up call bring a natural high into being throughout the entirety of my body. Like a hawk swooping gracefully into its nest, that sense of wellbeing ultimately makes me realise just how at home I'm starting to feel within my own body, which in and of itself is an experience that I know that I've never truly felt before now.
But while body image may be important, it's been the exercise induced injection of self-confidence and the realisation that I can ultimately do anything that I set my mind on which have had the greatest impact on my psychological wellbeing and emotional intelligence throughout the course of the past nine months, since two of my closest friends enticed me to hop onto a trampoline for a fitness class in Alexandria, just for the fun of it. When something that's enjoyable and physically exerting in nature takes a hold of you, your mind is able to push all other feelings and thoughts aside for a while, therefore giving the emotionally-wrought parts of your brain some respite for a time. Needless to say, in a multimedia driven and instantaneously interconnected world, the trauma which causes severe anxiety and depression, particularly for storytellers and jobseekers like myself, isn't all that hard to find.
Now with all of that in mind, I'm lucky in the sense that I can go into my gym nearly every day and then spend a few hours preparing job applications within the facility's café before ultimately rewarding myself with an intensive workout that not only improves my health and wellbeing, but my presentability during potential job interviews as well. Rather than letting myself spiral into a bleak cycle of darkness, I'm being proactive by placing myself in an environment full of positivity and energy, which can only serve to brighten my job hunting experience and employability going forward.
As I slowly ease myself forward into a lunge with eight kilogram weights in both of my hands, I subconsciously start to marvel at how I'm gradually finding balance within my life both literally and metaphysically, as I continue to slowly but decisively make my way forward towards my goals. But while such dedication may ultimately surprise culture warriors such as the Federal Member for Mackay George Christensen, who I've bunted heads with before as a board member of Safe Schools Coalition Australia over allegations of "child grooming", it wouldn't surprise many of his colleagues within the Nationals and the rest of the parliament, who've seen just how driven I am to be myself and to succeed.
While derogatory references may increase the resistance encountered by those trying to better themselves, by re-polarising other people's negative energy and turning it into a positive, you can in-turn find the strength to lift yourself up from the weights that are dragging you down, if you have the courage to do so. Hence while having the threat of my NewStart assistance being stripped off me while I'm job-seeking and bettering myself may sound entertaining to Mr Christensen, I know that like the occasional stumble that I have while lunge-ing, his words are ultimately meaningless as his own lack of balance and political equilibrium distances him from his more bipartisan colleagues.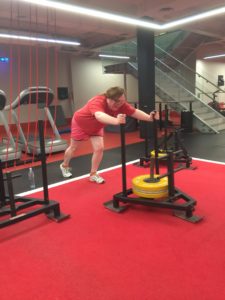 Having finished my daily training session, I slowly start to then climb up the stairs of my gym and make my way towards the train, while reflecting on how far I've come as a person over the course of the past few years. From finding the courage to come out permanently in the office of the then Chief Opposition Whip Warren Entsch, through to openly giving detailed cheek to Barnaby Joyce about his days as a Punk-Rock and Heavy-Metal DJ at the University of New England and giving a speech about Transgender youth to a room full of politicians at Parliament House, by going to the gym regularly again I've slowly come to realise that no person or situation can ever hurt me any more than I've ever hurt or pushed myself.
Life, with all of its challenges is there to be lived, and I wouldn't want it to be any other way.