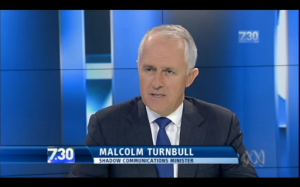 With the news that Leighton Holdings is under a major Federal investigation over approximately $50 million worth of kickbacks and other forms of corruption within Indonesia and the Middle East, some serious questions need to be asked of The Honourable Minister for Communications Malcolm Turnbull and his wife Lucy, in relation to their involvement with that particular company over the past few years.
As I reported earlier this year, Mr and Mrs Turnbull have previously invested in Hochtief AG (HOTG.DE), which is the majority (55%) shareholder  of Leighton Holdings. These shares were reportedly sold in February 2012 by The Turnbulls, about roughly the time that corruption allegations at Leighton Holdings first started coming to light.  Coincidentally, the sale of these shares wasn't reported by Mr Turnbull to the House of Representatives Pecuniary Interests Register, which sitting MPs and their immediate family are required to report changes in their financial interests to, within a 28 day period.  Strangely enough, Mr Turnbull let this "administrative error" lie for close to 18 months, until I pressured him on his family's investments in the NBN contractor and its $3.1 Billion involvement in the project earlier this year. Over the course of next five months after the alleged sale, Hochtief AG proceeded to loose over a third of its value on the German Xetra stock exchange, according to Reuters.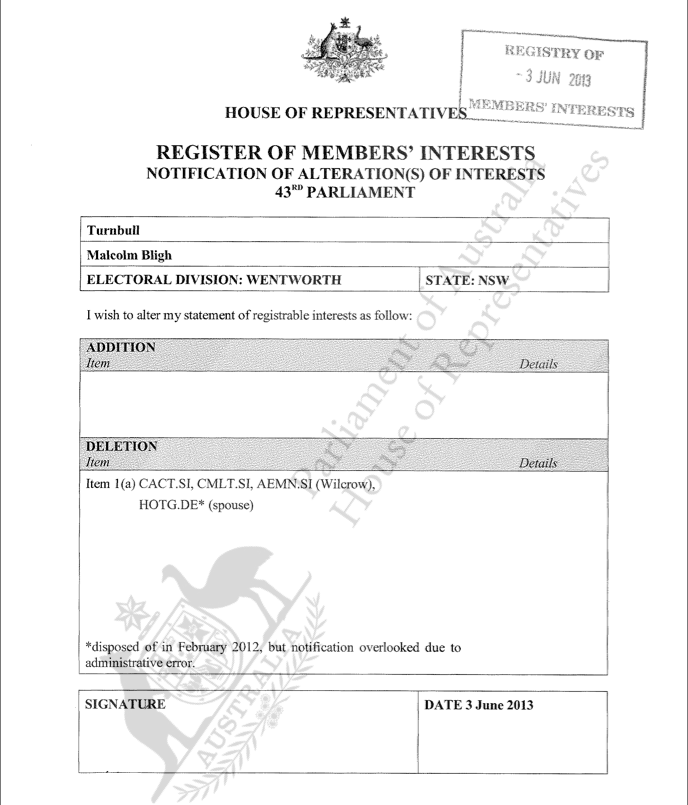 Needless to say, given how business-savvy the entire Turnbull family have been over the past few decades, it struck me at the time I wrote my previous articles as being rather strange that they would suddenly want to divest themselves of their shares in this company, just as they were starting to be awarded a series of major infrastructure projects via their majority-owned local subsidiary.  Due to the events of this morning and the past week however, I've now got more questions than answers in relation to the sale of these shares than what I had previously.
Now in the Australian Financial Review last week, it was reported that Mr Turnbull was seriously looking at inviting Leighton Holdings' former long-term CEO Wal King to the board of the NBN, given his extensive experience in rolling out telecommunications infrastructure across the Asia-Pacific.  Prior to his retirement in 2010, Mr King had been the CEO of Leighton's for 23 years and oversaw the rise of the company from being a middle-tier construction firm to a global infrastructure giant throughout this time.  According to the University of NSW Foundation, Mr King now acts as a consultant for Leighton Holdings and remains a senior member of the Sydney business community.   As a result of their business interests, this is a close-knit community that both Mr and Mrs Turnbull have been respected members of over the course of the past 30 years as well. Furthermore, as both a former Lord Mayor and Opposition Leader respectively, both of the Turnbulls would've had dealings with infrastructure companies such as Leighton Holdings in the past.
According to Fairfax's investigation and Leighton Holdings own statements to the ASX since the start of 2012, these allegedly corrupt activities reportedly took place during the last couple of years of Mr King's reign at Leighton Holdings.  In the four months prior to their announcement to the ASX in February 2012, Leighton Holdings are claiming that they were requested by the Government not to publicly disclose that they were under investigation.  As the former CEO and a Consultant to the company, it is highly likely that Mr King would've been kept apprised of the investigation either formally or informally throughout that period.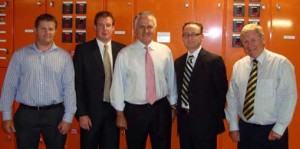 Now with all of this information in mind, Mr and Mrs Turnbull have got to come clean in regards to all of the details surrounding the sale of their Hochtief AG investment and any connections that they may have with any individuals (either past or present) who have worked for either the Hochtief AG or Leighton Holdings groups.  Given that Mr Turnbull didn't acknowledge the sale of these shares until nearly the end of the 43rd Parliament, you've seriously got to wonder under what circumstances these shares were sold, not to mention on who's advice or instincts.  While an ordinary sale and disclosure of disposal of the Hochtief AG shares within the Pecuniary Interests Register at the time would've satisfied any legal and ethical requirements that Politicians have in relation to their financial interests, the fact that the sale occurred on the same month as Leighton Holdings made the ASX aware of their potential scandal, it took Mr Turnbull close to 18 months to disclose the sale to Parliament and the reported NBN job offer to Mr King, is just too much of a coincidence to ignore.
Needless to say, it will be interesting to see how Mr Turnbull responds to the situation surrounding Leighton Holdings, the NBN and Hochtief AG going forward.