If there's one thing that never ceases to amaze me, it's that both state and federal politicians don't think that people check their pecuniary interests, policy statements and voting records, then contrast them against the business interests that said politicians and their families hold.
Take The Honourable Shadow Minister for Communications Malcolm Turnbull and his wife Lucy, for example.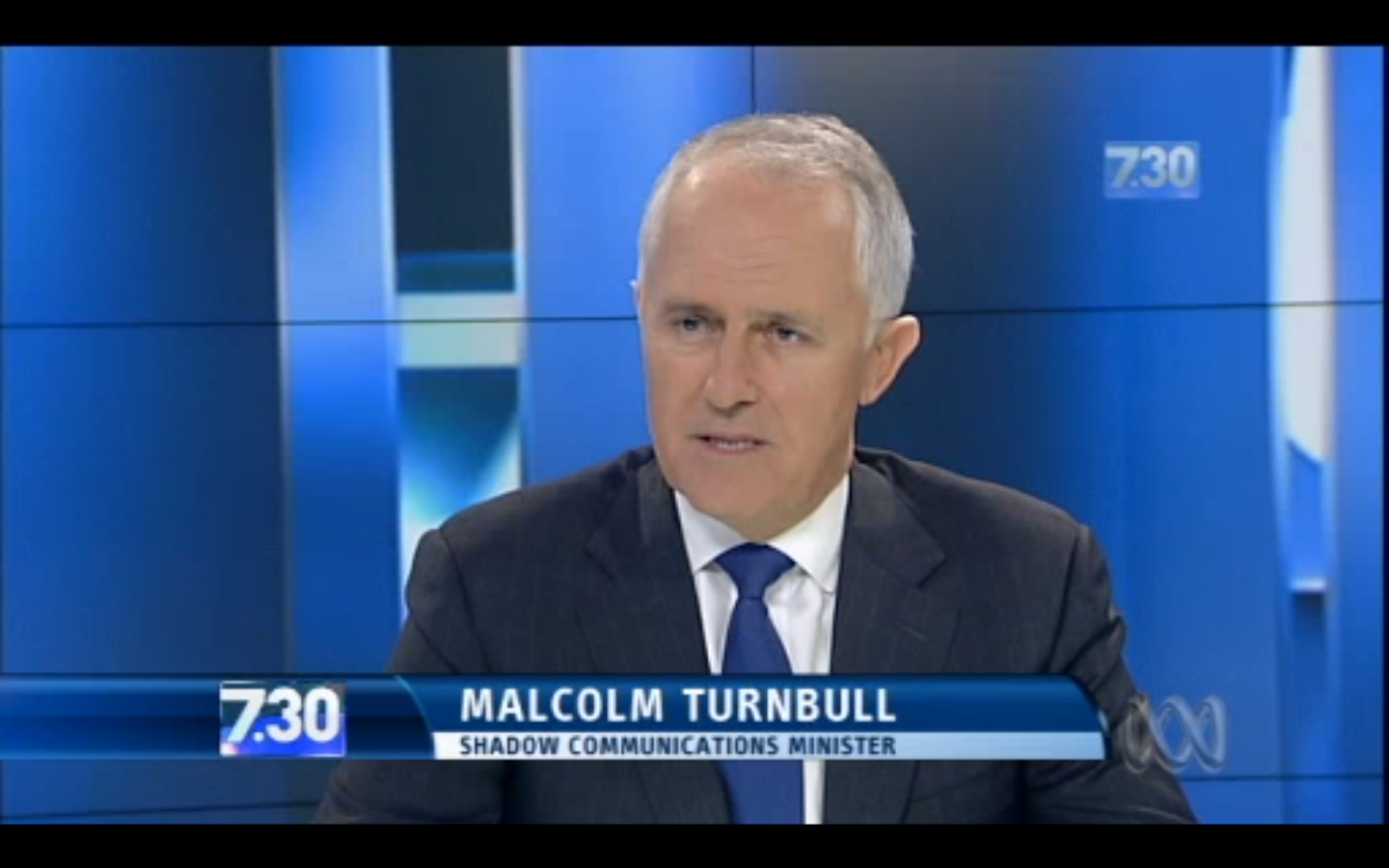 As shown within Mr Turnbull's latest register of interests, Mrs Turnbull has owned a diverse portfolio of shares in companies such as Siemens (SIEGn.DE) and currently Hochtief AG (HOTG.DE), both of which hold significant interests in the rollout of the National Broadband Network.  Utilising only their German stockmarket codes, most people wouldn't be able to identify those two particular entries on Page 8 in Mr Turnbull's submission, unless they knew what they were looking for.
As a lot of IT commentators within Australia are aware, Siemens owns a half share of Nokia Siemens Networks, which is one of the NBN's primary suppliers of optical transmission equipment. While their initial contract was only $10 million back in 2010, this project is expected to be worth over $400 million over the next 10 years. Coincidentally, Siemens also owns Silcar Communications in equal joint partnership with Theiss Australia, which is a wholly owned subsidiary of Leighton Holdings, which in turn is majority owned by Hochtief AG. Given that Silcar has been selected as a primary constructor of the NBN for New South Wales, the A.C.T. and Queensland with an expected return of over $1.1 billion between June 2011 and June 2015, the rollout of the NBN would offer a major source of work to the associated consortiums throughout this period.
Now as the Shadow Minister for Communications, Mr Turnbull has advocated for an initial Fibre-To-The-Node (FTTN) broadband network, with an eventual upgrade to Fibre-To-The-Home (FTTH) at a later date. Given that companies such as Siemens and Silcar would still have a major role in the NBN regardless of who wins the upcoming federal election, this potentially creates a significant conflict of interest for Mr Turnbull.
As a FTTN broadband network wouldn't allow for much of the pre-existing copper phone network to be used due to the placement of new DSLAMs and other end-user infrastructure in the most ideal strategic and commercial locations, serious questions need to be raised about the Coalition's NBN policy, if their claims about network speeds and costs are to be considered reliable. As Silcar would most likely be the contractor for this work due to pre-existing agreements, while telecommunications equipment would have to be provided by Siemens and the whole process would have to be repeated with optical-fibre at a later date, Mr Turnbull could be placing two of the companies that his wife has owned shares with in a position where they could "double-dip" on a major infrastructure project. Dependent on the amount of shares that Mrs Turnbull owns in these companies, this could potentially result in a major financial return to the Turnbull's throughout this time, at the expense of Australian taxpayers.
Furthermore, questions need to be raised in regards to what advice Mr Turnbull has received in relation to the condition of the existing infrastructure that NBN Co is taking over from Telstra, as well as how he's relayed this onto his Coalition partners. As we've seen over the past few days, it has been found that a number of the telecommunications pits that were previously owned by Telstra in Western Sydney and rural Australia were created using asbestos-cement, which pose significant health risks when the pits in question are opened. Given that such telecommunications pits could be littered around a lot of Australia's major towns and cities, it would be interesting to see what exact advice he has given to The Nationals in regards to telecommunications infrastructure and policy over recent years and if they'd support a FTTN system, given rural telecommunications technicians would continue to be exposed to asbestos, as a result of rolling out such a network.
Take for example this interview between ABC Insiders' Barrie Cassidy and The Nationals' Warren Truss from earlier this morning:
BARRIE CASSIDY: In your speech to the National Council meeting yesterday you raised the NBN (National Broadband Network) and you said under the Coalition every country household will have access to high speed broad band with a minimum speed 25 megabits per second, but how much will it cost householders to have access to that?

WARREN TRUSS: Well it will be significantly cheaper than the NBN. We've given some figures as to what it will cost. In remote areas …

BARRIE CASSIDY: The NBN, under the existing arrangements, the access will be free?

WARREN TRUSS: But there will be still charges for using the – for signing up.

BARRIE CASSIDY: Yes but we're talking about connection fees to the house.

WARREN TRUSS: Our connection fees will be lower. We'll be using the same satellites that the NBN has reportedly ordered to service many people in regional Australia. We'll be using the wireless network. All of these sorts of things will be followed on from what the NBN is doing.

The advantage that we have in our system is that we will take our fibre to the node and as a result we will be able to deliver optic fibre cable connections to a much larger section of the community. Including …

BARRIE CASSIDY: Yes, but what will the fee be?

WARREN TRUSS: … to many regional areas.
In order to guarantee that each and every rural house is going to get a minimum of 25mbps, a lot of new DSLAM nodes, copper phone-lines and other infrastructure are going to have to be put installed. This raises the question: how is Fibre-To-The-Node going to be rolled out faster or be cheaper long term than laying Fibre-To-The-Home now?  This is further reinforced by Mr Turnbull's statement that copper would only be used to a maximum of 700 metres from individual Fibre-Nodes under a FTTN system on the 8th of April 2013, which would require further infrastructure spending in order to meet such requirements. This statement was made in the video that I've attached below, courtesy of ABC News.
Now while Mr Turnbull did disclose the fact that his wife does own these assets, the fact that he didn't disclose that the companies in question have ties to the NBN and other major governmental contracts is a major issue for concern given his position in the Shadow Cabinet. While nobody could know all of the business activities of the companies that either they or their spouses own shares in, the fact that Mr Turnbull would've likely known due to his portfolio and previous business experience what types of activities both of these organisations are involved in, does raise questions as to why he hasn't released this information until now.
Needless to say, it will be interesting to see Mr Turnbull answer these questions.