Over the past six months, I've been getting pretty disillusioned with the entire "Marriage Equality" debate and a lot of the federal politicians that have been supporting it. Like a Bull with a sore head, some of them have been consistently pursuing something that they know won't happen in the current parliament, regardless of how much they kick, scream and dance for the cameras each morning infront of Parliament House about it.  While I'm strongly pro marriage equality, the dog and pony show that's stopped so many other crucial Same Sex and Gender Diverse rights from being realised throughout the 43rd Australian Parliament needs to stop, because the recklessness behind it is doing more harm for the wider LGBTI community than good.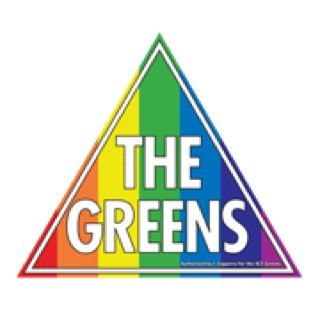 Now unlike some of the blindly loyal, flag-waving "marriage or bust" activists that can be found in places like Oxford Street during Mardi Gras, I know what it feels like living in the "Real World" where Same Sex and Gender Diverse youth often have to struggle for healthcare, employment, education and in sadly a lot of cases, a safe place to sleep at night. I've had to deal with workplace harassment about my gender identity and sexuality, while I've also had to decide what days I'm going to go without food, as I haven't had the money to cover the basic essentials of both life and job hunting at the same time.  Given that I've got a University degree, have a rather extensive level of experience in my profession and have been applying for any job I can get, it hasn't been through a lack of trying that I've been unable to get a job.
Now I'm probably going to get dragged over hot coals again by Sarah Hanson-Young's office for this, but it's predominantly been the Greens and a few of their more vocal activist supporters who have been making me as cranky as they come over this issue.  That's because whenever it's politically advantageous for them to advocate for something (i.e. lots of potential political donors) they'll advocate for it, however whenever there isn't (such as with gender diverse people), they won't.  Between their grandstanding over bringing in yet another Marriage Equality bill (that is doomed to fail in its current form) through to outright insulting ads like the one below, I'm sick and tired of having my right as a human being to survive, being used as a political football by people who appear to be lip-service allies at this time.
Now to put it bluntly, ads like this do nothing but re-inforce the blatantly false notion that Marriage Equality is the only issue of concern for the LGBTI community and that only one right can be addressed at a time.  While it's most certainly a key right that needs to be addressed in the short-term in order to promote equality, the idea that Marriage is more important issue than an LGBTI person's survival that this video implies, is nothing but disgusting. Needless to say in the grand scheme of things Marriage is an important yet symbolic right, rather than a survival one like accomodation, healthcare or finding suitable employment in a safe workplace.
I mean seriously: you try telling a young same-sex or gender diverse person who's just been assaulted, lost their job, been thrown out on the street, is struggling to feed themselves or has been denied services or employment that their survival needs should play second fiddle to someone who wants to put a metal band on another person's finger. Instead of acknowledging that both of these issues can be worked upon at the same time, this video implies that Marriage should come at the expense of all other LGBTI rights.  In a strange twist, this shows that Tracey Spicer's recent post entitled "Welcome to Meritocracyland!" is just as applicable to the attainment of basic human rights, as it is to women in the workplace.
Now I've probably got a few people going: "Kate…. Why have you got your panties in a twist? Didn't PFLAG release a similar video about Marriage Equality today as well? Why aren't you after them too?"
Well, the answer to that is simple. Unlike The Green's video, PFLAG's actually has a little bit of class to it in the sense that it's not blatant vote grabbing material, and that it actually attempts to educate people about diversity in a rather classy, yet medical way. On top of that, it doesn't stereotype people or come across as Marriage Equality being the cause that all other LGBTI rights should be sacraficed for.  While the videos in question are about the same issue, they are worlds apart when it comes to treating people with dignity and respect, which is also evidenced by the stereotyping present within The Greens' video.  Consequentally I can happily respect and admire PFLAG's video, even though I'm disappointed that they didn't acknowledge Gender Diverse people, while I can't help but cringe when I see The Greens' video.
Furthermore, Hanson-Young and the Greens know for a fact that there's more support for non-marriage related LGBTI rights in the current parliament than what there presently is for Marriage.  From Tony Abbott (of all people!!) writing a deeply honourable and respectful article on a close mutual friend of ours coming out as Transgender, through to the deeply respected Malcolm Farr writing a cracker of an article about the same lady, not to mention Bill Heffernan and a whole mountain of politicians from all sides of parliament breaking down in tears during speeches from Gender Diverse people at the LGBTI Parliamentary Friendship Group function last November, there is more than enough support within the Parliament and Press Gallery at this time to bring in reforms that are massively less controversial in a religious manner than marriage, while still working gradually on that issue as well.
Needless to say, between having two requests for direct face-to-face interviews with Hanson-Young when she's talked publicly about Marriage Equality last year denied, I can't help but feel as both a Trans-person and a journalist that the Greens are doing nothing but grandstanding when it comes to same-sex and gender diverse rights. While I'll admit that after the second request I was offered a briefing by one of Hanson-Young's advisors, such offers are next to useless when they know that you are trying to put together a radio documentary and need a voice that the public recognises for it. Getting stern phonecalls from her office for stating on Twitter that you were disappointed that you weren't given the chance to get the audio that you needed, tends to hurt a bit as well.
So with an election less than 100 days away now, as a Trans-person who's been through a lot I hope that the Greens somehow get an injection of courage for once that forces them to get off their seats and put forward a LGBTI survival bill that is moderate in nature that the other parties can easily support. Not only would such a bill actually have an impact on people's lives, but it'd also show that multiple parties can come together as one to save lives.  Given the fact that Hanson-Young hasn't made a single press-release specifically in regards to Gender Diverse people though in over 18 months (even though its her portfolio responsibility to do so), I'm not getting my hopes up.