The Immigration Minister Scott Morrison has responded to questions surrounding a gift that he received from the Sri Lankan Secretary for Defence and Urban Affairs Mr Gotabaya Rajapaksa earlier this year during a Joint Working Group function on asylum seekers between Australia and Sri Lanka.
In a very carefully worded statement to The Deadly Newt, the Minister's office refused to state why he decided to keep the seventeen-piece Noritake Odessa Platinum tea set that was presented to him by Mr Rajapaksa on the 22nd of April 2014, while suggesting that Mr Morrison was entitled to keep the platinum-etched gift from his Sri Lankan counterpart according to existing parliamentary regulations on such matters.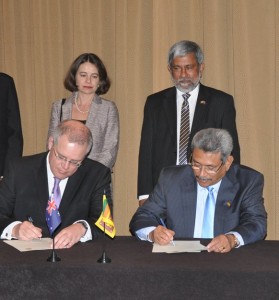 "The item was a gift of the Sri Lankan Government", stated a spokesman from Mr Morrison's Ministerial office.
"The Minister has complied with the relevant guidelines on disclosure."
The spokesman also declined to answer questions over the level of engagement that Minister Morrison and the Department of Immigration and Citizenship had partaken in with Mr Rajapaksa as a part of the repatriation of 41 asylum seekers to Sri Lanka over the last weekend, as well as the status of the professional and personal relationships between the two politicians.
According to overseas vendors, the Noritake Odessa Platinum china collection in a 17-piece configuration has a Recommended Retail Price between approximately $936.14 and when purchased either online or via authorised vendors.