Over the past few days I've been getting rather bemused by the phone tapping scandal that's been hiting the Australian and Indonesian Governments.  However the events surrounding this scandal haven't surprised me anywhere near as much as some of the comments that have been made about it.  Namely, that Indonesia didn't have a clue that Australia was tapping the phones of Indonesian citizens.  This is closely followed by some of the seriously deficient research that parts of the Australian and Indonesian media have conducted into this story, since it first broke. The context of a story often provides its key, and in all honesty that's what I feel has missing from this entire scandal so far.
I also regret the statement of Australian Prime Minister that belittled this tapping matter on Indonesia, without any remorse. *SBY*

— S. B. Yudhoyono (@SBYudhoyono) November 19, 2013
Now as anyone who follows South East Asian current affairs and politics closely would know, Indonesia's Detachment 88 has been tapping the phones of Indonesian citizens for ages.  Given that none of the tapped phones on the list provided by the Australian Signals Directorate to the other "5 Eyes" members were secure models, it's no surprise at all that these phones were tapped.  As a Reuters article from 2010 shows, phone tapping technology and expertise are resources that the Indonesians have requested and received from Australia, the US, France and the UK throughout most of the period since the 2002 Bali Bombings.
A U.S. embassy spokesman in Jakarta declined to comment, but a U.S. government document showed the unit had received technical support, training and equipment under the State Department's Anti-Terrorism Assistance (ATA) program since 2003.

An Indonesian official, who spoke on condition on anonymity, confirmed the unit got Australian and U.S. help in advanced wiretapping technology, and also some British and French aid.

Indonesia and the United States are likely to discuss further security cooperation during Obama's visit. Washington has been considering whether to lift a ban on military training for Indonesia's notorious special forces unit, known as Kopassus.
This is further reinforced by an interview that Allan Nairn, a George Polk Award and Robert F Kennedy Memorial recipient, conducted in 2007 with the progressive-leaning media outlet "Democracy Now" in New York.  During this interview, Nairn examined the Signals-Intelligence capabilities of the Indonesian Government and its utilisation of them against West Papuans and other dissidents, with US and Australian support.  Nairn was one of only a handful of reporters who were able to cover the Dili "Santa Cruz" Massacre of 1991 of East Timorese by Indonesian Military Forces, while he has covered the Indonesian military and intelligence community for decades.
And now, in this piece today, I disclose that there are actually US personnel working inside the Detachment 88 headquarters in Jakarta. And what they are doing is tapping the cell phones of Indonesian civilians. They're listening in on their calls. They're reading their text messages. And it's precisely such an SMS text message that led to the recent arrest by Detachment 88 of a Papuan human rights lawyer, a man by the name of Iwangin. And his offense was merely that he forwarded an SMS that criticized the Indonesian army and criticized the president of Indonesia. And for this, he was seized by this US-created antiterrorist unit.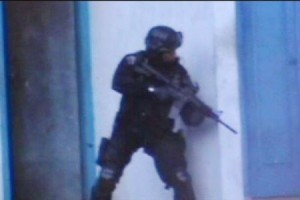 Throw in an extensive undercover investigation that focused on Detachment 88 by the ABC's Hayden Cooper and Lisa Main for 7.30 last year, and some serious questions have got to be asked as to why Indonesia's Politicians are claiming that they didn't know that Phone Tapping was going on, when they were extensively utilising and requesting such resources themselves for use within independence-seeking regions of their territory.
Now with an election coming up and corruption concerns running rife all across Indonesia, causing a stink over spying allegations serves the political interests of the major Indonesian parties at this time, as it gives them justification in playing the righteous victim during this part of their campaign.  At the same time, this is also in the interests of the Indonesian media, as a juicy spy-related story always sells papers and attracts audiences reasonably well whenever they come up.
However while the Indonesian Government and media's actions can be explained away by self-interest, the absolutely sloppy researching and analysis made by parts of the Canberra Press Gallery and wider Australian media throughout this story most definitely can't be.
Take The Age's Michael Gordon, for example.
Rather than checking to see if there might be a reason behind why Liberal Party pollster Mark Textor called various members of the Indonesian Government unethical operators (alongside a reference to pornography producers of a certain vintage), Gordon instead decided to do an article about how Australia is full of caricatures and Textor is nothing but an offensive racist.  For example:
So what did we see this week, as the focus of Indonesian anger turned from the revelation to Abbott's admit-nothing response? Evidence that the caricatures are alive and well and still doing damage. Witness Liberal Party pollster Mark Textor and his offensive tweets, and the flag-burners outside the Australian embassy in Jakarta.
This was followed by:
Back in Australia, the story went in many directions, with suggestions that the Indonesian anger should be seen through the prism of that country's looming election (and SBY's unpopularity); criticism of the Guardian Australia and the ABC who jointly broke the story; and questions of whether publication was in the public interest and/or the national interest, and whether the story had been delayed by what former Liberal foreign minister Alexander Downer called that "left-wing" publication [The Guardian] to damage Abbott (it hadn't).

Much of the debate missed the point. The bigger issue is what purpose is served by attempting to tap the conversations of friends in a WikiLeaks and Edward Snowden world where the prospect of disclosure is so much greater – and how this behaviour is consistent with all the talk from successive prime ministers about this being Australia's most important relationship.
Now while Snowden's disclosures are obviously in the public interest, that doesn't mean that we should exclude all other information involving particular events as well.  At no time within any part of his article, did Gordon even hint at raising the issues surrounding Detachment 88, the verified atrocities that Indonesia has partaken in West Papua over the past decade that Susilo Bambang Yudhoyono's been in power, or the fact that Indonesia already had the resources required to undertake such phone tapping of senior government officials, due to the resources that the same government officials had requested from both Australia and the United States.  Nor did Gordon or any other member of the Australian media even reference the fact that senior Indonesian Police and Military officials have been under investigation for corruption, at scales that may make Eddie Obeid and Ian MacDonald look like little kids at their first day of Pre-School once all is said and done.
5 minutes and a laptop, smart-phone or tablet would've been all that was needed to find and verify the information present within this article, especially given the extent that the ABC, Fairfax, News Corp and The Jakarta Post amongst others have produced content on these issues over the course of the past few years.  Simple research that would've made both Australian and Indonesian politicians sit back and answer a few tough questions, though due to what's probably a mix of  personality conflicts and egos, this is all easily verifiable and crucial information that's conveniently gone overlooked.

To be fair, this mistake wasn't made by Gordon (or Fairfax for that matter) alone.  Over the past couple of days, the ABC's Latika Bourke has made a few Tweets and retweets without confirming the information within them or conducting further background research, while others such as The Australian's Ben Packham have focused on the here and now (pretty decently in Ben's case, I might add) at the cost of the backstory as well.
Liberal Pollster Mark Textor quits Twitter following 70s porn star rant…but his digital legacy won't be forgotten: http://t.co/AfNAHvAeqZ

— Latika Bourke (@latikambourke) November 22, 2013
Needless to say, you've got to wonder if it was stories like these that prompted Textor to make the comments that he did, even if they were offensive to both Filipino Porn Stars and Indonesian Politicians alike.  If so, questions need to be asked as to why so many journalists within the Canberra Press Gallery and elsewhere haven't researched the backstory of Textor's comments and this scandal as a whole, as a part of their coverage so far.