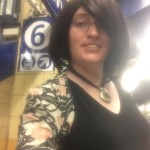 On Monday the 25th of May, a chill went through my veins in a way that is indescribable with words, as my arms started to convulse in the throes of an overwhelming anxiety attack that left me feeling sick to both my personal and professional cores.
There in black and white on the screen in front of me, was a paragraph that challenged not only my gender identity and sexuality, but my ability to remain professional and impartial in a way that no journalist, let alone person, should ever be expected to face. Like a rabbit caught within the eyes of a snake, it left me feeling terrified in a way that I had not felt in years, as the memories of some of the worst times in my life came flooding back.
Sharri Markson: "Doak, who says in her biography that she is transgender, would probably despise Bernardi's stance on same-sex marriage." – The Australian, 25th May 2015
But rather than let it paralyse me with dread for most of the day, I was lucky in the sense that I knew that if I put myself out there amongst other people and made it to see my psychologist later that morning that the overflowing pressure of my anxiety would gradually fade to a slightly more manageable level. Like everybody else I'm human, and talking helps me to feel less overwhelmed when I'm feeling down.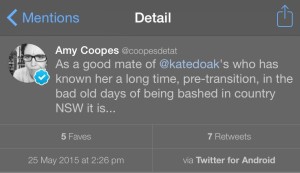 Now while I may come across as being a rather strong and resilient person to a lot of people, I've ultimately gone through a lot in order to become the person that I am today. From being frequently used as a punching bag in my youth because I was "different" through to being told soon after I was "outted" at university that it was my fault for getting sexually assaulted because I'd started my transition, I've ultimately had to fight every inch of the way throughout my entire life, in order for the chance to feel comfortable within my own skin.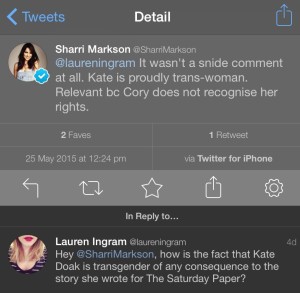 But while I'm deeply proud that I've been able to embrace the fact that I'm Transgender and that I'm now happily living the life that I was always meant to lead, that doesn't mean that I don't also feel deeply hurt when people sometimes assume that being transgender solely defines who I am as a person and how I perceive the world around me. Furthermore, it doesn't mean that I don't react in the same ways that everybody else does, especially when life throws a bouncer your way with more force than cricketers such as both Glenn McGrath & Brett Lee combined could ever potentially muster.
In the same way that being a horse rider doesn't influence my abilities as a musician, being Transgender doesn't influence my abilities as an investigative journalist or a writer. While I've obviously written more than a few Transgender related stories in my time, it's been because there's been thought-provoking stories there that have just been itching to be told (like those found within the short transgender youth documentary "In My Shoes" for example), rather than the fact that I'm Transgender per-say.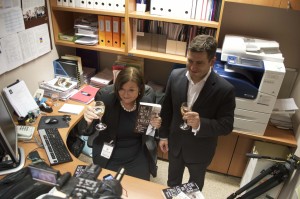 From covering the Martin Place Siege for ABC News (U.S.) and Good Morning America through to covering Operation Spicer for SBS at ICAC last year, as well as having photos of Eddie Obeid of mine appear twice in Kate McClymont and Linton Besser's book on Hunter's Hill most notorious resident and building a world class radio station for Tune!FM at the University of New England that would leave most journalists in a puddle of their own drool amongst others, I have a long history of throwing my heart into being as professional, innovative, apologetic (when required) and respectful as they come, regardless of how I've physically presented myself throughout my career. Furthermore, I've always followed stories and projects to their conclusions, even though that's occasionally come at a high personal cost for me as I've placed immense levels of pressure on myself, both privately and professionally, in the pursuit of perfection.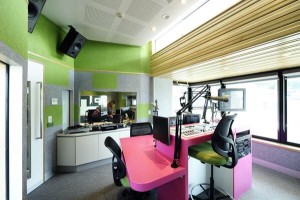 Take the past 18 months for example, during which time I've gradually become overwhelmed with an atmosphere of anxiety as I've dealt with both friends and family members being caught up in murders, massive coronaries and suicides, as well as the aftermath of being assaulted, the struggle surrounding financial hardship and unemployment and keeping a roof over my head amongst others. Even without taking the challenges of my transition and the fact that for the first time in my life I'm feeling worthy of exploring and developing the types of relationships that I want to have into consideration, any one of those major life-changing events would be enough to overwhelm anyone on their own, let alone when they all come at once.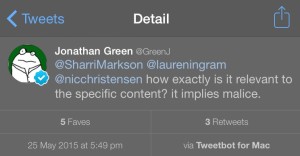 Now in all honesty, I could quite easily either make complaints to both the MEAA and the Press Council or commence defamation proceedings against people like Sharri Markson when offensive commentary like that found within The Australian last Monday comes up, though when given a choice I prefer not to. Whether it's the result of being a teacher's kid, a scholar of history or just from having a kind heart, I prefer to be an educator rather than a fighter, as in my mind lasting change only comes from letting people walk in others shoes for a while.
So with that in mind, I hereby offer a suggestion that will hopefully allow both Sharri and others the chance to learn from the lives of those less fortunate than themselves, while helping to responsibly develop the ethical coverage of minorities both within Australia and abroad. Namely, to take a week or two out of their schedule, in order to fully immerse themselves within the everyday case-worker activities of Transgender supportive organisations such as The Gender Centre and Twenty10 amongst others.
Not only would such an opportunity allow for an impressive in-depth feature to be produced on one of the most marginalised though increasingly discussed minorities within Australian society, but it'd also allow for the development of contacts, workplace training opportunities and responsible coverage style guides that will ultimately help save lives.
No matter which way you look at it, the irresponsible use of words can be deadly, and with an increasing number of both Trans men and women living public and productive lives as their true selves within society today, the way that we engage with them all needs to improve along with them.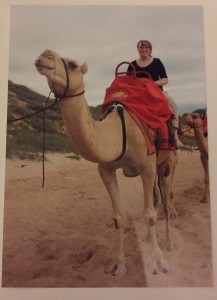 So in closing, life is what we make of it and while it has been an extremely rough road for me at times, regardless of whether you include my transition or not, it's been a journey that I wouldn't swap for the world. That's because for all of my faults and with all of the pain that I've endured at times, I'm now happy, even though I've been going through and winning a soul-crushing battle against downright seismic levels of anxiety of late with the loving support of my friends.
Needless to say, such a personal level of peace is all that anyone can ask for and it's taught me that I am ultimately more than my body.