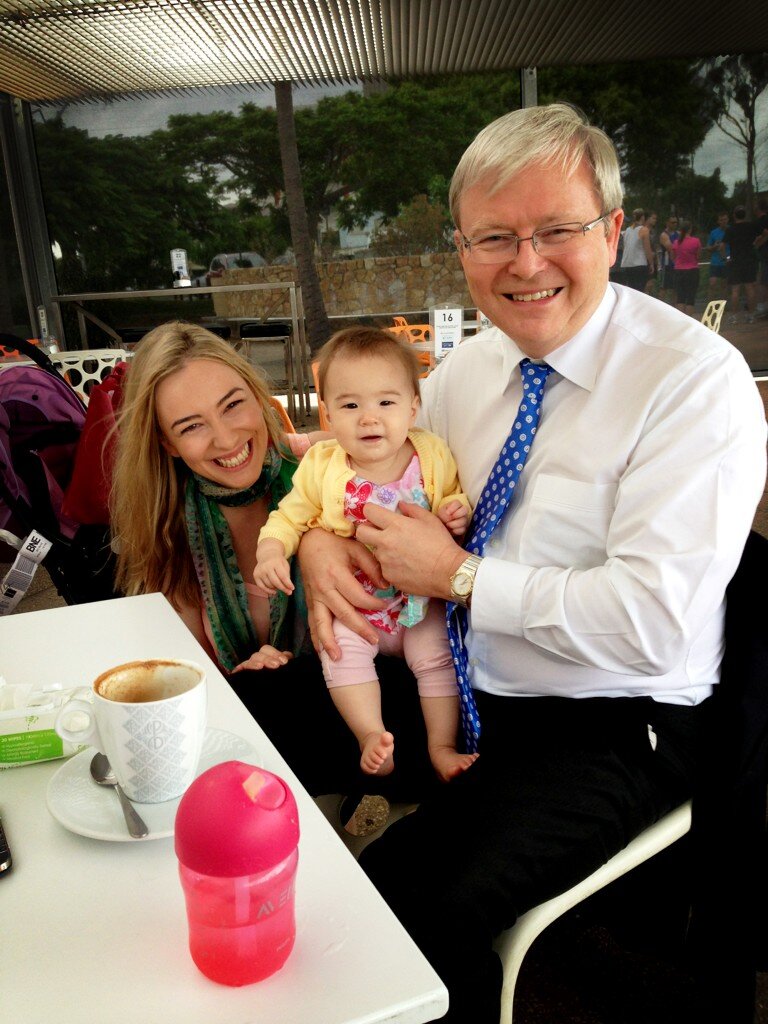 It is said that a photo can say a thousand words, so is this a sign of what's to come for the 26th Prime Minister of Australia?
With all of the talk about whether Kevin Rudd is going to challenge Julia Gillard for the Prime Minister-ship again or not, there's been very little analysis about how Kevin's personal life has changed since he became a Backbencher again last year.
While Kevin can occasionally be an enfante terrible within politics, it has always been beyond doubt that he is very much a family-orientated man. A doting Dad to Jessica, Nicholas and Marcus, being around family in both his proudest and darkest moments has always had an overwhelming influence on the way that Kevin has reacted in both public and private situations.
As the latest photo from the Rudds suggest, Kevin and his family are rejuvenated, relaxed and once again loving life. Radiating personal satisfaction, this photo symbolises the difference between the Kevin Rudd of the twilight days of his leadership, and the changes that have occurred in the man since Josephine Tse was born in June last year.  In 2010, Kevin was at the end of his third year in what is undoubtedly one of the most stressful jobs present within contemporary Australia.  Burgeoning on the edge of exhaustion (and frustration) that comes with being the Leader of a political party and a nation, Kevin was starting to show the signs of premature aging that so many leaders worldwide show after a couple of years in the "Top Job".  A little under three years later though, it is evident from the mere mention of his granddaughter that Kevin is a man reborn with youthful vitality.
Now when it comes to wanting to spend a greater level of time with their family, Kevin most certainly isn't the only politician that has been feeling this way over recent months and years.  From Lindsay Tanner through to Nicola Roxon, Nick Minchin, Kirsten Livermore and Kay Hull's resignations for family reasons since early 2010, it is evident that family has as big an impact on our national leaders as it does for the rest of us. This is further reinforced by a series of tweets that Tony Abbott made earlier today, when he welcomed his daughter Francis to Twitter.  Given that Kevin is now a backbencher, he undoubtedly has a greater amount of time to enjoy the other job in his life (being a family-man and a Grandfather) than he would as the Prime Minister.
When you also look at all the other politicians who've thrown their hats into the leadership frey over recent years,  Kevin Rudd is the only one that is also currently a Grandparent. Whether they are your own kids or your grand-kids, young children have a way of making people reflective of their own situations, limitations and general desires within life. At a relatively youthful 55, Kevin would've had to have realised that there is more to life than being a Foriegn or Prime Minister as soon as Josephine came on the scene.  Whether some people would like to admit it or not, it is also arguable that he has a rather ideal balance when it comes down to work and life related issues at this time.
Needless to say however, becoming a Grandfather last year won't stop Kevin from getting up to mischief on various occasions going into the future. Like all political leaders, whether they be current or former, Kevin isn't beyond giving his enemies both within and outside of the ALP a bit of a shake-up, as every politician loves to do.  While he won't do anything to jeopardize the ALP going into the next election, he won't be afraid to "accidentally" steal a few headlines from the Prime Minister on occasion, when something interesting and unique comes along that he doesn't have to put to much effort into. Whether the Executives of any of the political parties like it or not, Backbenchers still like to have a bit of fun on occasion, especially after they've gone through a contemporary "night of the long knives" that brings to mind the scene surrounding Julius Caesar bleeding out on the marble of the Roman Senate floor.
But while it is evident that Kevin more than likely won't challenge for the top job in the Labor Party again anytime soon, that doesn't mean that Julia Gillard should feel safe in The Lodge between now and the next election. Just because Kevin isn't intreagued in the position at this time, doesn't mean that people such as Bill Shorten or Simon Crean mightn't be interested in becoming PM for the remaining 6 months of the current Parliament, if it means that they are able to lay claim to being the 28th Prime Minister of Australia and have a greater chance of protecting their own seats within Parliament as a result. Having seen one Prime Minister stabbed in the back just before an election, it wouldn't be too much of a stretch to see a similar thing happen again, given the level of discord that is still present within the ALP.  Throw in a touch of ego and ambition, and you have all of the ingredients needed for the recipe of a classical political tragedy of Shakespearean proportions.
As a result, the lead-up to the next election is going to be interesting…. Even if Kevin Rudd is on Baby-sitting duties while Josephine and Jessica are in town.