Normally I don't like writing when I'm angry, but when you run into dehumanising comments like the one I've reposted below from Bernard Gaynor's website, sometimes you can't help but feel slightly emotional when working on a story.
Malcolm is a Lieutenant Colonel in the Army but also masquerades as Cate.

He thinks that because he has had a nip here, a tuck there and popped a bunch of pills that he is now a woman.

I don't like to speak on behalf of women, so I'll let them describe how they feel about his analysis that femininity consists of the sum result of a bunch of cosmetic surgery and hormones stuffed in a bottle.

While they consider their response, it might be worthwhile for them to remember that Malcolm has publicly stated that he is still attracted to the ladies. And when he puts on his Army skirt and lipstick, he is allowed to hang out with them in the bathroom.
This was followed up in a recent update with:
The other thing I'll say about Malcolm is that he may not be female, but he sure does act like the Queen Bee.

…….

Angus, as the Deputy Chief of Army is affectionately known around my parts now, also said I should resign from my position with the Army Reserve. I suppose that is a polite way of saying bugger off.

And I have politely ignored his request, although I did pen this piece in honour of Angus.

Now, I don't want to jump to any false conclusions, like thinking that Malcolm is getting a better deal in terms of treatment from the military head honchos than I am. But I am starting to consider signing off my correspondence with the chain of command as Bernice.

Maybe then they will listen to the evidence I have put to them that the ADF is complicit in child abuse by marching with a bunch of men clad in leather G-strings and busloads of topless women while kids looked on at the Mardi Gras.

Maybe then they will listen to the truth that soldiers don't want women in front line combat roles and that they would have more confidence in Malcolm if he didn't pretend that he was Cate.

Quoted directly from Bernard Gaynor's personal website, this is only a small taste of the vile commentary that has been flowing from one of Australia's most controversial political candidates and his followers since last Thursday. Given that one of Gaynor's supporters is former journalist and Victorian political staffer Philip Maguire, this has made for some pretty spectacular and sordid material being placed online in the leadup to and aftermath of International Day Against Homophobia and Transphobia (IDAHO) last Friday. As most of you would be aware, I wrote a story on Maguire's commentary late last week. Since then Maguire has continued to launch attacks against Lt Colonel Catherine "Cate" McGregor and any other individual who stands in the way of Gaynor and himself. As evidenced from last Saturday:
I had another couple of abusive email rants today from the Army's transgender queen, Lt. Col Malcolm AKA Cate or "Cateypie" McGregor.

Even if he was truly offended by this post his remedy was in the courts if he believed he was defamed.

…….

His life is a farce, a charade. He claims to have become a woman yet clings on like grim death to the remnants of his masculine pride.

Who knows what has fed these delusions? The professionals will have to deal with it sooner rather than later. This is a man in the grip of a serious personal crisis.
Now for those of you who follow Victorian politics and rural news from the Snowy Mountains region, you'd probably recollect that a few years ago there was a rather large stir that went on in regards to cattle being allowed into the Alpine National Park for fire control purposes. You'd probably also remember that Maguire was at the forefront of that particular dispute, having allegedly moved his cattle illegally into the Alpine National Park throughout 2006 through to 2011. Maguire's identity is quickly and easily confirmed if you analyse his various social media platforms, prior appearances in the media, as well as the online cache's of the content that he has attempted to remove over the course of the weekend.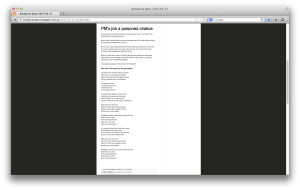 Given the toxic nature of the content that has been published over the past week (some of which is viewable here), Maguire's open disregard and contempt for laws that he disagrees with is particularly disturbing, given that such language has prompted hate crimes against various minorities in the past. This is further reinforced by posts that Maguire has published previously, where he's sung about placing politicians in graveyards as evidenced by the attached screenshot.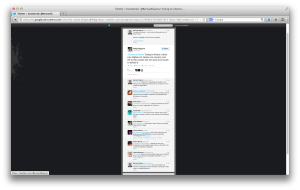 Now using Google Cache, it quickly becomes evident that Gaynor and Maguire have known each other in some capacity via Twitter for a while. As evidenced by the attached screenshot, they've communicated in regards to islamophobia, homophobia, the Boston Bombings and sexism via twitter on a couple of occasions over the course of the past month alone.
In reviewing Gaynor and Maguire's previous connections, I can't help but feel that this has been a coordinated attack against Lt Colonel McGregor, as the evidence suggests that these two individuals have potentially been planning this for a while. That's because they've both continuously gone out of their way in order to publish material that they most likely would've known would make them legally liable under various anti-discrimination, defamation and privacy legislation to prosecution. This is further reinforced by Gaynor, who is also Major in the Army Reserve, also purposefully calling Lt Colonel McGregor by her former name and pronouns on multiple occasions, not to mention accusing the Deputy Chief of Army of promoting pedophilia.
Given the level of vitriol present specifically within Gaynor's commentary, this is something that the Defence Force would undoubtedly be interested in, given the extensive and highly commendable efforts that they've gone to in order to promote equality, tolerance, respect and order within their organisation over recent years. As evidenced by commentary from Lt General David Morrison within the audio that I've attached below, accepting people for who they are and providing support for them in the long term to reach their full potential is a key component of the Army's plan to eradicate behaviour, such as that seen during the recent sexual abuse scandals within ADFA and the wider Australian Defence Forces. As a result of these changes within the Defence Forces and the leading role that both Lt General David Morrison and Lt Colonel Catherine McGregor amongst others have had in implementing them, I'm proud to say that I'm seriously contemplating signing up for the Army Reserves. Needless to say, that's something that would've been impossible for a young Trans-woman such as myself, only a few short years ago. It also shows that the ADF's equity and diversity programs are working in a way that will only strengthen the resolve and capabilities of the Australian military as it continues to gradually move forward.
An Indian summer of Cricket - Book Launch - Manuka Oval, Canberra - 16th December 2012

Furthermore the audio from her book launch at Manuka Oval in Canberra late last year, also shows that Lt Col. Catherine McGregor has the friendship, support, respect and admiration of a wide variety of people from across Australia and around the world. From Jim Maxwell through to "Chappelli", Mike Carlton, Julia Baird, Karen Middleton, Francis Leech and Geraldine Doogue, not to mention half the Canberra Press Gallery, this lady has a lot of admirers within the media. This was claimed otherwise by Maguire, who stated the following:
I'm supposed to have had one from "one of Australia's best journalists" but it hasn't surfaced. The person involved probably said he wrote to me to shut the fool up. McGregor is a distressed and angry low life and should be retired from service on the grounds of being psychologically unfit.
This was followed on Saturday with:
McGregor is also claiming that I have refused to post comments from his supporters which is an outright lie.
So in response to this, I'm going to let Cate McGregor's old mate (and National Political Editor of News.com.au) Malcolm Farr have the last word on the matter.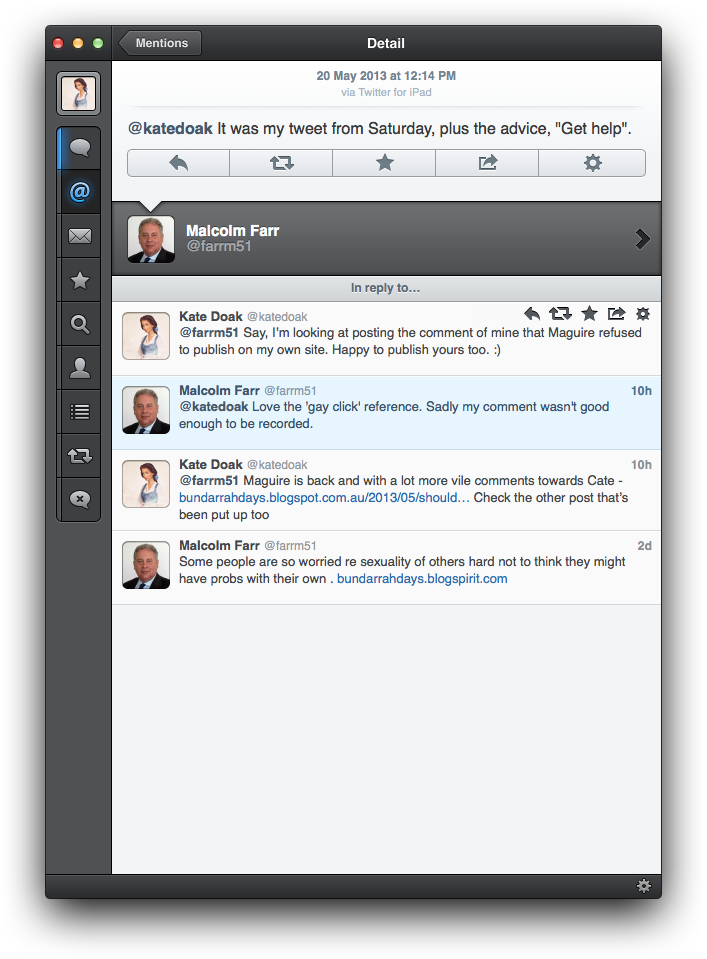 Truer words couldn't have been said to either Bernard Gaynor or Phillip Maguire, Mr Farr. Well said.