Late yesterday my old friend John Murch (aka RadioNotes) from Radio Adelaide gave me a heads up about Nick Cave's new down-beat track, "Jubilee Street".  Now given the amount of times that I've pestered him (and Triple J's Rosie Beaton) over the years with requests for songs by "Nick Cave and The Bad Seeds", it's pretty obvious that John knew that I wouldn't be able to resist the temptation of hearing something from their new "Push The Sky Away" album for long.  And as you can see from the album cover below, the sexual innuendo within "Push The Sky Away" is going to be rather high.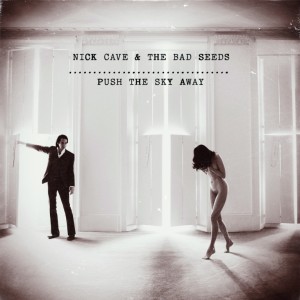 (Video after the jump)
Now love them or hate them, there's no doubt that Nick and his Bad Seeds have had a profound impact on the Australian music scene and beyond throughout the course of their existence. From the subtle to uniquely provocative and even cases of blue, bloody murder, they've never been afraid to push the boundaries when it comes to addressing issues surrounding the meanings of life, whether it be as "The Bad Seeds" or "Grinderman".
Now in many ways "Jubilee Street" lives up to the band's reputation for getting down and dirty with their songs.  While it may be a bit slower than "The Curse of Millhaven" and no where near as chilled out as "More News From Nowhere", it still plays heavily on the dirty old man factor that Cave has so beautifully cultivated into some of his amazingly reflective songs over the years. That said however, it just doesn't have that "Angry Nick" element that's made me really enjoy albums such as "Murder Ballads" in the past.
But while Cave has sung about raunchiness, love and death in extremely frank detail in the past (to might great delight), I can't help but feel that he's breaking into a new theme with how he's worded this song. With lyrics such as  "I oughta practice what I preach" and "These Days I go down town in my tie and tails, I've got a foetus on a leash" as well as "My problem was she had a little black book, and my name is on every page", to me it almost feels as if Cave is writing a supposedly celebrate priest, who gets an under-aged prostitute pregnant and knows that he's going to get caught due to his discovery of the existence of her records.  This feeling is reinforced when you also take into consideration that Nick's recording studio for this album also looks to be a renovated old church hall.  Now when you think about it that's pretty heady stuff, even for a Bad Seeds and Grinderman junkie such as myself.
Now regardless of whether or not my hunch is correct or not, I think that "Jubilee Street" will probably cause a stir as it also explores the issue of human reproduction in more depth than what's commonly found within contemporary music of any genre.  Not only that, but the chosen lyrics are ones that prompt strong emotions within a lot of people.
By using words such as "Foetus" and "Embryo", as well as staing that the album in general is like a "ghost-baby in the  incubator", it is likely that "Jubilee Street" will attract the attention of both sides of the reproductive rights debate, both here in Australia and overseas. Given the ferocity present within both camps in regards to this issue, that could result in some interesting encounters, depending on whether "Jubilee Street" becomes an iconic song or not.
So while "Jubilee Street" isn't going to become my favorite song (or even one I really enjoy) anytime soon, the fact that Nick and his bandmates are essentially exploring new territory in regards to the content of their songs is a promising sign. As a result, it will be interesting to checkout "Push The Sky Away" when the album itself is released later in February, particularly since the album will be released via vinyl as well.