*Sigh….*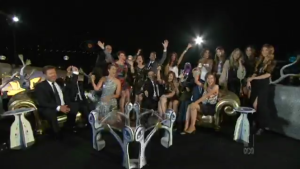 Last night on the ABC, I watched something that I really wish I hadn't.  It wasn't a sex scene, it wasn't anyone getting shot, stabbed or abused. It wasn't even a simple case of bad language.
Instead, it was a whole bunch of journalists, comedians and presenters embarrassing themselves on air during the New Years Eve celebrations in Sydney, due to what appears to be a series of over-indulgences with alcohol.
Now "teetotaler" jokes aside, I'm not someone who's against having a good time or the occasional tumbler of single-malt scotch.  I am however, a person who's an absolute sticker when it comes to maintaining professionalism on air.  That's because while the cameras and microphones are on, you are for all intents and purposes, the public face of the organisation that you are broadcasting for. Whether it be the Australian Broadcasting Corporation, CNN, BBC, News Corp, Fairfax, Ten, Nine, Seven, Southern Cross Austereo, SBS or even a little university radio station like my beloved TuneFM, as journalists and content producers, we all have a responsibility to uphold the values and public trust of the organisations that we represent.
I'm going to be blunt about @ABCTV's #NYE coverage – Some people need to be pulled over coals for drinking on air. Not professional at all.

— Kate Doak (@katedoak) December 31, 2013
Call me an idealist if you want, though I'm a firm believer that those things still mean something in the modern world.  Whether it be online, on-air or in print, people still gravitate towards quality and will often be a lot more forgiving in their commentary, when they see that something was a genuine problem, rather than an embarrassment that could easily have been avoided with a little bit of responsible forward thinking.  These are principles that were instilled in me by a mixture of mentors, friends and colleagues long before I even looked at uttering a single word on air, and have served me well over the years in multiple situations.
Needless to say, it's pretty hard to see any level of professionalism in some of the content that was broadcast throughout parts of the ABC's New Year's Eve coverage.  From both guests and presenters bringing wine-goblets and glasses on to the stage, through to Shaun Micallef making quips in the "Year in Review" about "Hermaphrodites", some extremely awkward cameo promotions for various shows and some unbelievably inappropriate advances being made by certain individuals throughout the night, it felt as if someone had thrown the ABC's Code of Practice and other Editorial Policies on to the front of a Wyle E. Coyote inspired steam-train, while lining both the carriages and the locomotive with ACME dynamite.  For someone who's inspiration to become a journalist emanated from some of the innovative, insightful and deeply professional work that has come out of the ABC throughout the course of the past 30 years, such levels of embarrassment are just beyond painful to witness.
Furthermore, with funding-sharks like Senator Cory Bernardi on the prowl, such actions could potentially have a devastating impact on parts of the ABC going forward, particularly given the potential balance of power in Canberra after the Half-Senate By-Election in Western Australia later on this year.  Given that people such as Senator Bernardi have been open in their thoughts about finding reasons to justify the gutting of the nation's two public broadcasters (such as perceived levels of bias and lack of responsibility), it is deeply surprising that the media personalities involved in last night's production offered him the "free-kick" that they have. As well as this, the legal ramifications of drinking on air (such as the increased likelihood of a defamation lawsuit), should have been reason enough for people to pause for a moment as well.
That said however, the ABC shouldn't be judged for a screw-up at the end of a long year of success, both online, on radio and on television.  From 4 Corners and Foreign Correspondent highlighting the ABC's documentary-making prowess, through to the superb coverage of issues such as leadership spills, espionage cases and child abuse amongst others by the likes of Peter Lloyd, Mark Colvin, Suzanne Smith, Leigh Sales and Annabel Crabb from Radio Current Affairs, Lateline and 7.30 respectfully, the ABC has a lot of high-quality content to be proud of from 2013.
So while I'm deeply saddened about the ABC's New Years Eve coverage and think that quite a few people need a stern talking to from ABC management in regards to their actions last night, we should focus on the positives of 2013 for our public broadcasters, rather than the small number of negatives.  Namely, that over 99% of the time that they act on-air in a manner that we can be proud of, while producing a rich vein of content that is regularly the envy of the world.