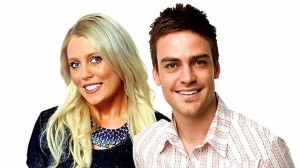 In an interesting twist of events yesterday that feels like a quiet covering of bases, Southern Cross Austereo's CEO Rhys Holleran stated that the Hot30 Countdown on 2dayFM would be scrapped, with the two hosts involved in the now infamous Royal Prank on the Duchess of Cambridge being moved onto other shows.  Needless to say, I doubt that the news that Michael Christian and Mel Grieg are going to be back on the air-waves of Sydney is going to be of any solace to the family of Jacintha Saldanha, who was the nurse that committed suicide soon after the prank call to the Duchess's ward at King Edward VII Hospital in London was made.
Soon after Saldanha committed suicide, the following comment was made by Michael Christian in regards to the incident:
'We just made the phone call and that was it. We don't get to make those decisions, we don't get to make those calls, that's done by other people. Our role is just to record and get the audio and wait to be told whether it's OK or not OK."
This statement was further compounded upon, when Mel Grieg confirmed the procedures.
"It's not up to us to make that decision. We just record it and then it goes to the other departments to work out. I don't know what they then do with it. We just do what we do, which is make those calls."
Now whether you believe the story put forward by Christian and Grieg or not, it is now evident that Southern Cross Austereo are trying to reduce the license conditions placed upon them by effectively renaming the Hot 30 Countdown and moving the presenters onto new positions (or waiting till the scandal surrounding them fully subsides). Given that the Hot 30 Countdown was already the subject of additional licence conditions for 2DayFM from an on-air incident with Craig Lowe and a porn star in 2005, Southern Cross Austereo would've undoubtedly been anxious to avoid having two major shows with multiple black marks put against their names by ACMA.
 Now while ACMA might be a bit of a toothless tiger, there's only so many times that you can "prod the beast" without it eventually taking a swipe at you. Given the aforementioned incident with Lowe in 2005, as well as the problems that have arisen on the "Kyle and Jackie-O Show" over recent years, ACMA would have ample justification to throw the book at 2DayFM due to the additional licence conditions placed on the station,  as well as the political and public support to do it.
 These additional license conditions were placed on 2DayFM as a result of the infamous Lie Detector segment and Sandilands' comments towards News Limited's Alison Stephenson. When the final ruling was made on Sandilands back in August of this year, the license conditions were extended to specifically cover the Hot 30 Countdown, due to previous breaches of the Codes of Practice by that program in 2001 and 2005.
For a period of five (5) years from 16 May 2012 the Licensee must:

In respect of the programs "Hot30 Countdown" and "The Kyle & Jackie O Show" and any other radio program presented live to air by Mr Kyle Sandilands alone or in combination with another presenter or presenters, comply with clauses 1.3(a) and 1.3(b) of the Commercial Radio Australia Codes of Practice and Guidelines 2011, or any equivalent provision replacing clauses 1.3(a) and (b) in any replacement code registered by the Australian Communications and Media Authority, (the Codes).

Provide training at least once every six (6) months on compliance with the Codes for all its employees and contractors involved in the production and presentation of all programs produced by the Licensee and report in writing to the ACMA within fourteen (14) days after each training cycle has been completed on the training that the Licensee has conducted.
Now given that ACMA commenced their most recent investigation into 2DayFM and the Hot 30 Countdown as an "Own Motion", it wouldn't surprise me if they eventually rule that the station has been in breach of their license since the new conditions were first enforced back in August of last year. As a result of this, at the very least ACMA is likely to stick additional license conditions upon 2DayFM in regards to Grieg and Christian, as well as any program of a similar format that replaces the Hot 30 Countdown in the long term.
However even if there are significant additions to 2DayFM's licence conditions in the future, such actions are unlikely to challenge the toxic workplace and broadcast environment that has been continuing to ferment within the commercial radio industry within Australia over the past couple of decades.  Rather than being isolated incidents that occur once every few years, it nearly seems that we can't go for a couple of months without somebody in the commercial broadcast media causing a scandal of one form or another. Whether it be Alan Jones and his comments on and off air about Prime Minister Gillard or David Koch talking about breastfeeding, it almost feels like some elements of the media as a whole will do or say anything in order to promote the growth of their ratings.
Sadly enough it's nearly always innocent third parties that are forced to shoulder either the blame or the shame for such incidents.
For example, a few months ago my friend and former 2DayFM presenter Wendy Harmer, wrote an extremely interesting piece asking how low shock-jocks are willing to go in accordance with the wishes of their employers. Within it she described how the former SAFM breakfast presenter Amber Petty was forced to fake her own death during a prank on her own family, due to the amount of pressure that was being placed upon her by the management of the station and Southern Cross Austereo as a whole.
Understandably this incident was something that Petty wasn't particularly happy about, which she reflected upon in a recent statement to Mumbrella:
"Having worked for SCA, I will say that behind the scenes much of the time it is 100% encouraged to be outrageous and have a sick sense of humour. Revolting things are encouraged, and they employ sycophantic people who make dumb mistakes."

"While I was on air, the powers that be decided it would be a good idea to get attention by pretending I had died. So being new on air and feeling the pushiness of 'don't carry on about this or you're not a team player' I had to leave the studio while an obituary for me was recorded."
Petty isn't the only high profile Southern Cross Austereo employee to have had difficulties due to shock-jocks, their producers or station management either. In another one of Harmer's articles last year, it was revealed that 2DayFM's Drive newsreader Geoff Field had experienced high levels of homophobia from Kyle and Jackie-O during his tenure on their show. Harmer stated that Field had been approaching Human Resources at Southern Cross Austereo for years without success, while Field stated at a University of Sydney event back in 2011 that the 2DayFM Drive Team were more accepting of him as a person and as a newsreader than his former colleagues.
Unbeknown to most, both Kyle and Jackie-O were also responsible for a "Kill The Tranny" segment, which aired on their show last year around the same time that Sandilands' abuse of Alison Stephenson was unfolding. During this particular segment, both of the hosts enticed callers to come up with the most suitable way to deal with a person, once they are found to be Transgender.  Given that I'm Transgender, a journalist and have been the subject of physical abuse on a few occasions over the years, that particular segment scared the hell out of me when I first heard it on the day that it went to air.
So while there's ample evidence to suggest that there needs to be fresh regulatory oversight of the commercial broadcast media, it is highly doubtful that anything is likely to change for the better in the long term given the announcement that Holleran made yesterday, due to the industry's and ACMA's track record of dealing with such issues. While Australia mightn't have had issues with phone hacking like the British, it is evident that we have our own problems, which are just as ethically questionable and morally corrupt as those found on Fleet Street over recent years. Until we fully recognise and acknowledge that there is a problem that needs to be dealt with within the Australian media, scandals such as this are going to continue to be swept under the carpet and covered up, as a cost of media organisations conducting business.