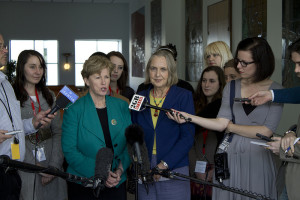 As an interesting sidenote to the scandals surrounding former NSW Agriculture and Natural Resources Minister Ian MacDonald and the mining industry, during the research for my previous article I came across the NSW Greens' voting record for the Brigalow and Nandewar Community Conservation Area Bill of 2005. As well as this, I also came across Senator Lee Rhiannon's commentary about the Shenhua Watermark and BHP mines near the townships of Breeza and Caroona on the Liverpool Plains, both of which are situated on Zone 4 (Mining Specific) former State Forests within the Brigalow and Nandewar Community Conservation Area.
Working closely with the right and left factions of his party, Mr Macdonald was involved in a range of activities which need close examination. It seems clear that Mr Macdonald played a role in bringing the financial muscle of the mining industry to the cabinet table. While the former Labor Party member is becoming known far beyond New South Wales borders for alleged corrupt allocation of mining leases, it was not just a favoured section of the big end of town that benefited from Mr Macdonald's largesse. The New South Wales government also picked up mining money in unusual ways. BHP Billiton paid $125 million for an exploration licence on the rich black soil of Caroona on the Liverpool Plains and China Shenhua paid $300 million to operate in neighbouring Watermark.

Prior to these payments, the highest fee for an exploration licence my office could find was $10 million. Why the sudden increase? What long lunches were held to smooth out these deals? What promises did the former minister make in return for this money being paid to the New South Wales government? Mr Macdonald's role as architect of this new engagement with the mining industry warrants a close examination. These funding streams would have made him popular in cabinet and may help explain why for so long Labor headquarters stood by him and why he was kept on as minister. Meanwhile there was growing community concern with his activities.
This is in contrast to Senator Rhiannon's comments about the mining activities in such areas in 2005, during the Second Reading of the Brigalow and Nandewar Community Conservation Area Bill in the NSW Legislative Council.